I and other marble racing fans have been feeling a need for a centralized page that makes easier to find more marble sports content, especially after the growth the segment experienced in the past two years.
Earlier this week, I contacted early contributors (who abandoned the project early on) to find out who were the admins and if it was possible to "transfer ownership", so I can make my ideas happen. But, after reading support pages, I realized wiki "owners" aren't a thing, and my best bet is to work on the existing pages and later file for an adoption.
For now, I'll follow the currently established format and guidelines. If the adoption is successful, I will follow the guidelines listed below: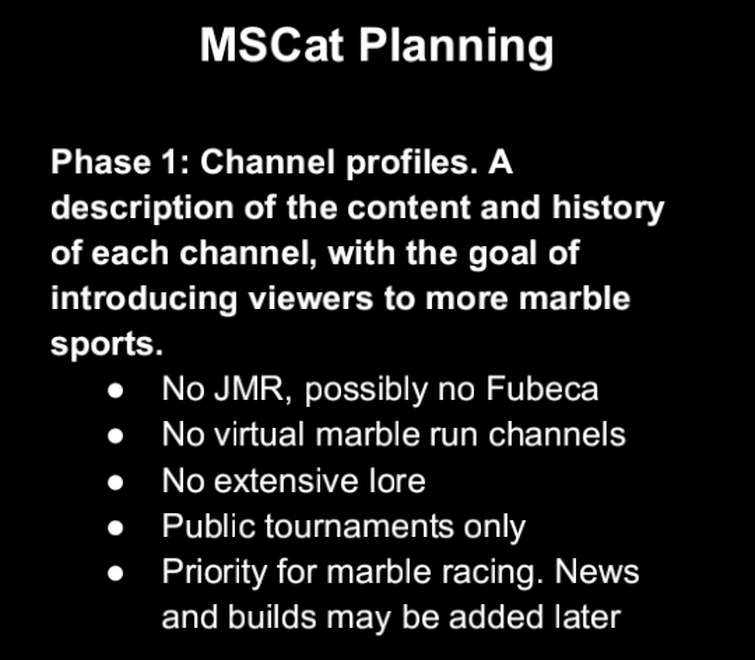 This is our action plan:
Focus on real life marble races: Since real life races and virtual races (Algodoo, 3D and other software) attract different viewerships with their own separate communities, we want to focus exclusively on channels that mainly use physical marbles in their events. We may give exceptions, considering history and content evolution of each channel;

No Jelle's Marble Runs: JMR is by far the most recognizable brand in marble racing, and since their wiki is already very complete and contains all information about their tournaments, we'll redirect users looking for such content by linking the JMR wiki in the main page.

Giving a spotlight to small channels: Our main goal is to give fans a tool to find more marble sports, for all tastes and all budgets. We intend to present more options for potential viewers, share some "hidden gems" and work alongside creators to expand the content of the wiki. An initiative for fans and by fans.